Enroll for American Heart Association Accredited Courses
BLS / ACLS / PALS
Why Life Saving Course is required?
Sudden cardiac arrest is one of the leading causes of death. Once the heart stops beating, a healthy human brain may survive without oxygen for up to 4 minutes without any permanent damage which is way lower than the response time of any emergency medical services that Is 6,8 minutes or even more that .
Successful resuscitation outcome after cardiac arrest event depends on early response by the competent rescuer. A competent rescuer can increase the chances of survival of the victims.
All healthcare givers, including non-medical people, are expected to be trained in Life Saving Methods which is a simple but highly effective manoeuvre because they may encounter a cardiac arrest situation at any time in the course of their life.
How Critical is the requirement?
One of the survey Conducted in Pan India in 2016 by Lybrate, an online doctor consultation platform concluded that less than 2% of the 1 Lakh surveyed, knew the CPR technique, while
only 0.1% have ever performed it .Without continuous practice or regular training ,it's really difficult for anyone to implement the process effectively at the time of need.
Good knowledge of BLS , ACLS, PALS are highly essential for all health care staff members; especially to those who are working in Emergency and Critical care units because protocol based management avoids confusion, wastage of time which in turn can save many lives.
Unawareness of the same foretell a great danger to community health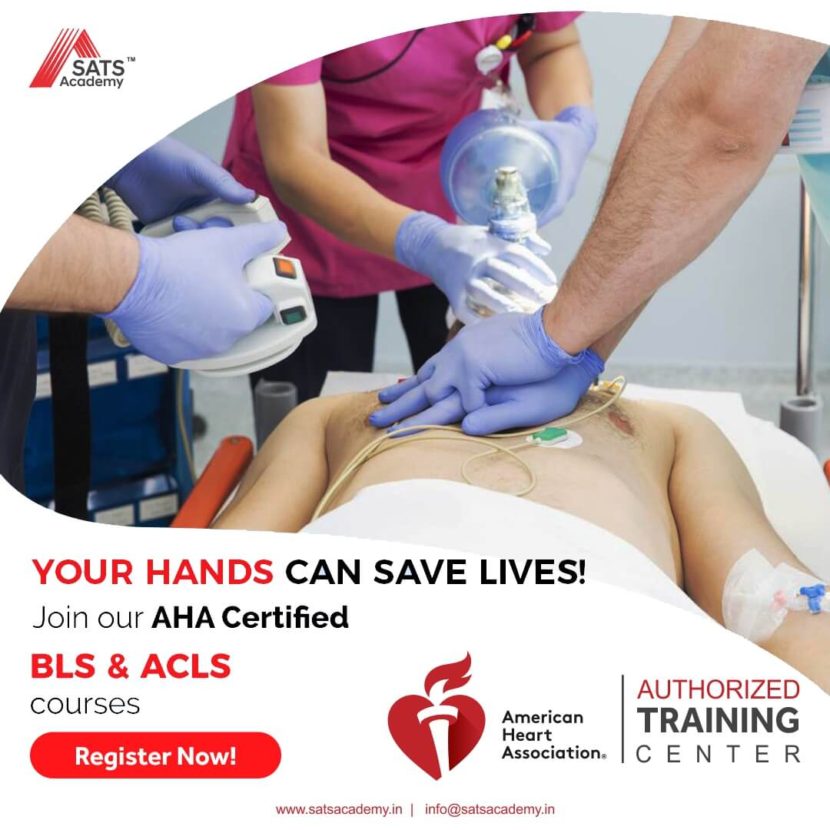 What is the role of SATS Academy?
SATS ACADEMY being an International Training Centre for American Heart Association has been imparting a critical role in training thousands of healthcare providers and emergency respondents on skills in BLS, ACLS and PALS.
It makes us proud when our client can execute the methods to save lives .It empowers our community to act confidently in the Life threatening situation.
Why train with SATS Academy?
With our dynamic group of Instructors, the innovative teaching learning opportunities with hands on skill stations will give you a unique combination of knowledge and skill development. You will be enabled to train yourself individually or as a team from your organization and become confident in the skills that can actually save a life.