EDIC Exam Preparation Courses EPIC - Exam Preparatory in Intensive Care
Total Candidates Enrolled
Exclusive For (European Diploma In Intensive Care) EDIC Part 2 Exam Aspirants 
Candidates Enrolled
Since 2015
Highlights of the Program
Online mock simulation of EDIC practical exam

Renowned faculties & experienced examiners

Tips & tricks to succeed in practical exam

Know the common mistakes

Know the questions asked frequently
Contact: 

+91 91372 53520 /
              +91 98195 07760
Online Simulation of EDIC Exams,
Covering All Domains of EDIC Exam...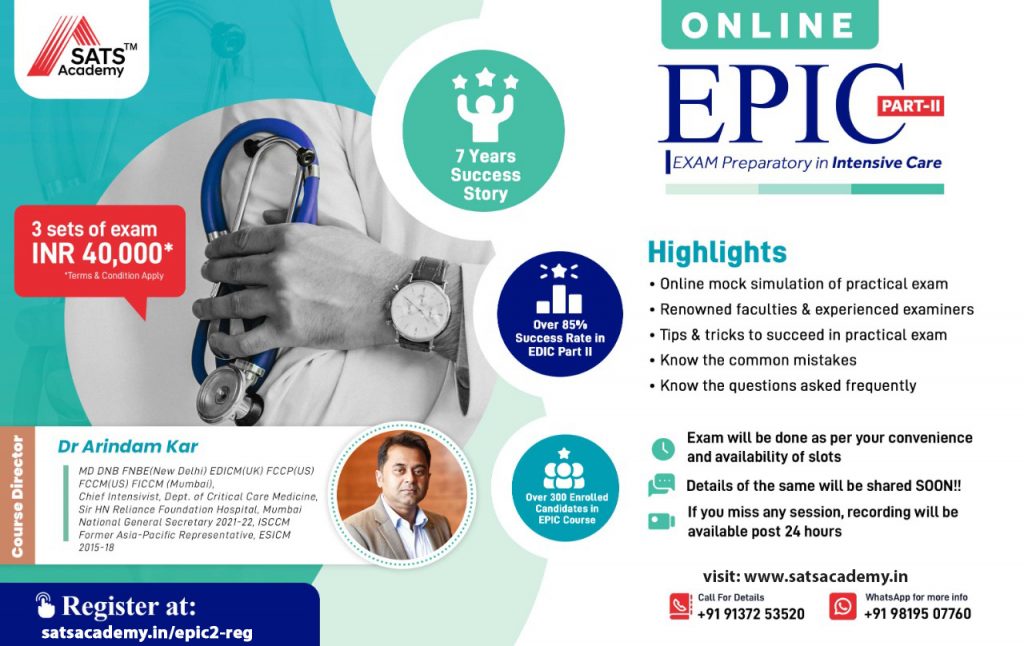 Candidates Enrolled
Since 2015
Exclusive For (European Diploma In Intensive Care) EDIC Part 1 Exam Aspirants 
Critical Care medicine is one of the crucial areas in the medical arena, where expertise is required in every stage.
The field of Critical Care Medicine has grown leaps & bounds in the last decade and more & more doctors want to take formal training in the subject.
This course prepares you for the Critical Care Mock Test which is theoretical, boosting your confidence to step into the field of Critical Care medicine. It is mainly performed online.
All critical care intensivists who aspire to appear for varied examinations like IDCC or EDIC Part I, and plan to prepare for the same, then this mock test would be the stepping stone.
Since the past 7 years, SATS has been passionately organizing Critical care Mock Test (CCMT) & Exam Preparatory in Intensive Care (EPIC) , an international level Critical Care MCQ exam for all the aspiring candidates.