EPIC International 2019 (Exam Preparatory in Intensive Care )
EPIC International 2019,South Chapter
EPIC International 2019, North Chapter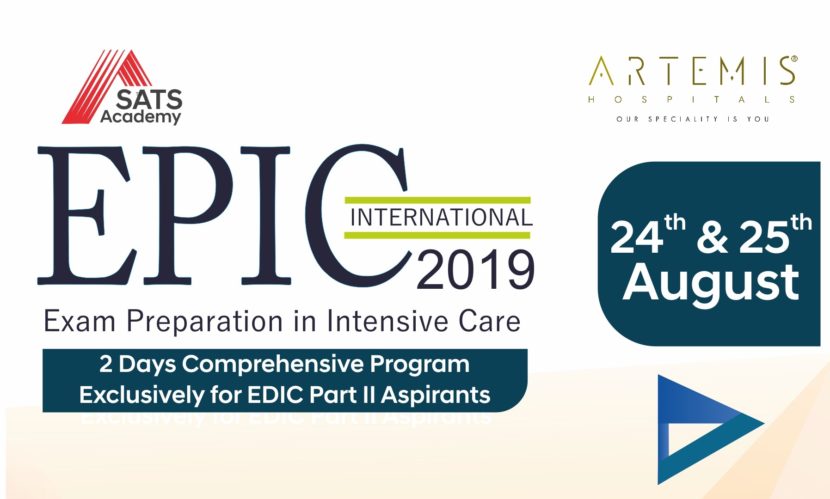 SATS Academy, in association with Virinchi Hospitals and Artemis Hospitals, takes immense pleasure to announce the organizing dates of  South  and North chapter of EPIC International 2019; an Exam Preparatory Course for Intensive Care.
South Chapter
Date:-10th & 11th Aug'2019
Associated Partner:-Virinchi Hospitals, Hyderabad.
North Chapter
Date:-24th & 25th Aug'2019
Associated Partner:-Artemis Hospitals, Gurgaon.
SATS Academy conceptualizes the event under the able leadership of  Dr Sumit Ray, Dr Srinivas Samavedam and Dr Arindam Kar.
Since 2015, the yearly preparatory exam course is being conducted successfully to lend guidance for the aspiring EDIC (European Diploma in Intensive Care Medicine) Part II candidates. In striving to make it available for every deserving aspirant across the country, this year we have decided to conduct the exam in two centres as South and North Chapter.
The course comprises of an elaborate description on the examination process along with a mock practice of viva and clinical cases. The course provides an opportunity to interact with senior faculties and examiners to prepare themselves more constructively and identify specific areas of improvement.
The Mock Exam conducts on an online web-based format with an iPad/tablet (app-based); very similar to the actual EDIC Part II examination. It will instantly avail the live score sheet of every participant and provides detail analytics of the results.
Therefore, we would request you to kindly register at the earliest for this preparatory course because we have limited seats and spot registration may not be feasible if seats are filled up online.